We may earn a commission or products from the companies mentioned in this post.
I've seen mala beads (also known popularly as meditation beads or prayer beads) before, but recently became more aware of them after seeing a YouTube video discussing them.
Spiritual Jewelry
Generally speaking, pieces of spiritual jewelry are used to celebrate the body and they provide a way for individuals to transcend into the core of the universe. As opposed to nihilistic, immaterial beliefs, the majority of religions across the globe offer some type of protection to followers in the form of small jewelry items.
When it comes to mala or meditation beads, while they may fit into the broad jewelry category, they are not really an "adornment" but actually more of a "tool" to help the individual remain focused. Having done the Rosary years ago, this is kind of what it reminds me of.
Mala Beads History
For thousands of years, spiritual seekers and yogis have used mala beads to help in keeping their minds focused throughout meditation. These pieces have their roots in Buddhism and Hinduism and were initially created around 3000 years ago in India. 'Mala' is a Sanskrit word that means "meditation garland."
Therefore, a mala is essentially a string of beads used in the practice of meditation. This tool helps you with counting mantras and it serves as a tangible guide as you are seated in silence. There are many materials that can be used to make a mala; these include authentic gemstones, sandalwood and rudraksha seeds.
Significance of Certain Components of Mala Beads
Guru Bead
This is the bead to which the tassel is directly attached. When threaded on a necklace, it is typically the 109th bead. It is said to represent the guru from whom the student has obtained a mantra being recited or used. The Guru Bead also pays homage to the relationship between the student and the guru.
The Tassel
The significance of the tassel has various meanings. One of which is the representation of oneness. The strings come together to form the tassel and this is a representation of connectedness to each other and to the divine.
Overhand Knotting
Overhand knotting is a true symbol of a traditionally-crafted mala. This type of knotting makes the mala more durable and it also makes the perfect space available for Japa Meditation, which is a meditation in which each bead is used to count a recurrence of a mantra.
Where to find mala beads
Below are some of the brands that make mala beads:
Tiny Devotions
Unlike other malas made of tassels, sandalwood and other inexpensive materials, Tiny Devotions malas have a more elegant quality due to the use of gemstones. Each mala is handmade and comprises silver connecting beads, rudraksha seeds and a mixture of semiprecious gemstones and a large gemstone in the center. In addition, each one is made with a particular intention according to the energetic capabilities of the stones used to make the mala.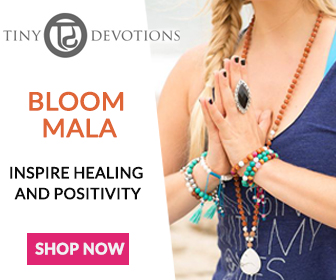 Pros
• Elegant
• Durable
• The center stone weighs down the mala, which makes them feel more like a necklace and less like a mala.
• The center stone also has a tactile and very attracting quality and a fascinating softness that belies the hardness of the gemstone.
Con
• May be a little expensive for some budgets.
MeruBeads Mala Necklace
MeruBeads are 'handcrafted with love' and natural and premium gemstones are used to make them. For added strength, every bead is threaded and hand knotted on durable cotton string. With these beads, one size fits all and it can be worn as a necklace or loosely wrapped around your wrist in wrap bracelet style. The brand offer several varieties of gemstones with different energies, properties and meanings.
Pros
• Handmade with natural beads
• Tassels are made of natural silk for additional softness
• All malas are hand knotted for extended lifespan
• A Gemstone Guidebook and Guided Meditations are provide to assist individuals in understanding the benefits of gemstones
Con
• Some have tassels that come apart easily but customer support typically takes care of this very quickly.
Healing Lama Genuine Sandlewood Tibetan Meditation Necklace
This necklace is made in Nepal from genuine high-quality beads made out of sandlewood grown in the Himalayas. It is naturally fragrant and the smell is soothing and will last for years. It is commonly believed that sandlewood fragrance can stimulate awareness and assist in invoking tranquility, relaxation and the awakening of divine thoughts. This healing aroma can also be used to promote feelings of serenity and peace and ease various disorders of the digestive system.
Pros
• Excellent quality
• Gorgeous
• The fragrance promotes mindfulness and peace
Cons
• Some users have stated that the fragrance is not as long-lasting as claimed.